For further development of our research centre, it is crucial to extend our relations to domestic and foreign industrial partners, which brings the financial resources and the possibility to validate our results.
In the Czech Republic, we closely cooperate with the following research institutions:
Brno University of Technology
Czech Membrane Platform (CZEMP)
Institute of Macromolecular Chemistry Czech Academy of Sciences
MILCOM a.s. (Dairy Research Institute)
Palacký University Olomouc
Technical University of Liberec (TUL)
The Technical University of Ostrava, University of Pardubice
ÚJV Řež (nuclear power engineering)
University of Chemistry and Technology Prague
University of West Bohemia, Plzeň
We also strengthen and extend our partnership with these foreign research centres: Research Institute of industrial science and Technology RIST (South Korea), Institute on Membrane Technology (Italy), Mogilev State University of Food Technologies (Belarus), Universidad de Cantabria (Spain), Faculdade de Ciências e Tecnologia (Portugal), Universidade Nova de Lisboa (Portugal), Universitat de Girona (Spain).
Grants
From the public sphere there are several institution among the most supportive in our R&D:
Technology Agency of the Czech Republic
Ministry of Education, Youth and Sports
Ministry of Industry and Trade
Ongoing projects
Finished projects
Other projects
We cooperate with our industrial partners based on contractual or collaborative research (see Cooperation & Services), often under NDA agreements.
CASE STUDY: CLASSIC OIL: RALEX® ART – ANTIFREEZE REUSE TECHNOLOGY
We developed a unique technology consisting of effective pretreatment and highly efficient electrodialysis to gain a mixture of water and clean glycols while retaining low energy and chemical consumption. Technology can be applied for car antifreeze and airport de-icing fluids, HVAC, as well as for glycols used for dehydration of natural gas extraction.
RALEX® Antifreeze Reuse Technology is a comprehensive solution that integrates pretreatment with desalination phase electrodialysis. The aim is to treat the glycol solutions used and to form a mixture of pure glycol and water for further use in the production of antifreeze fluids.
The technology is intended for the regeneration of antifreeze solutions from automotive, heating and air-conditioning, capacitor electrolyte recycling, and used de-icing solutions of aircraft wastewater.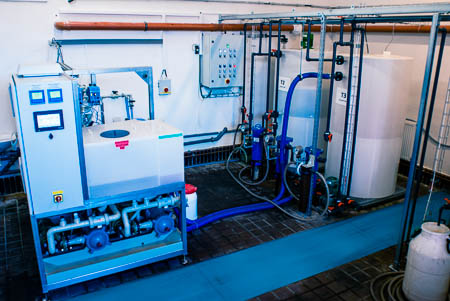 CLASSIC Oil s.r.o., the most significant Czech manufacturer of coolant/antifreeze and heat transfer fluids, uses the unique RALEX® ART electromembrane technology from MEGA since 2017.
For more info, see https://www.mega.cz/antifreeze-recycling/