The analytical laboratory focuses on the qualitative and quantitative analysis of polymeric materials and liquid gas media samples. Instruments in the laboratory allow determining concentration in a wide range from tens of percent up to trace quantities.
We use the laboratory mainly for internal analyses; during laboratory and pilot tests for MEGA and their customers. We also provide independent analyses for external companies.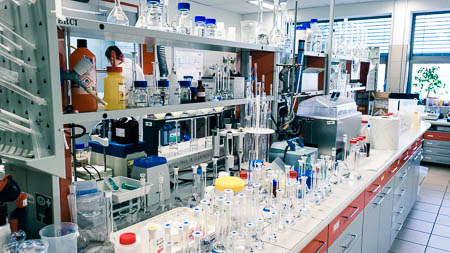 OUR FACILITIES AND DEVICES
The analytical laboratory equipment allows qualitative investigation, i.e. determining the sample composition, as well as quantitative investigation, i.e. the number of analysed substances in the sample. The sample compositions can be determined on the elemental level, using the methods ICP-OES and EDS, or on the molecular level, using FTIR, NIR, Raman spectroscopy, and ion chromatography.
Examples of our devices:
• Microwave mineraliser: Multiwave PRO
• Spectrometer: ICP-OES iCAP 7400 Duo
• Spectrometer: UVFT-IR Nicolet iS50
• Spectrophotometer: PhotoLab
• Spectrophotometer: UV-VIS Evolution 220 LC
• High-pressure Ion Chromatograph: HPLC Dionex ICS 5000
• TOC and TNb Analyzer: Vario TOC Cube
• Polarimeter: KRUSS
• Max Rapid N
• Agrofor
• Pycnometer: Pycnomatic ATC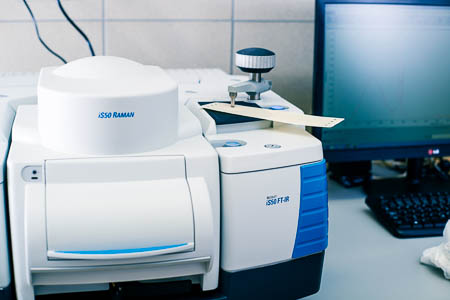 WE OFFER
• Laboratory analysis – for the scope of all our analysis, please see the Laboratory Analysis (pdf).
• Processing of measured data in the form of tables, graphs, final reports, and statistical evaluation (upon customer's request).
• Consultation